Safeguarding the Economy Through a Dynamic Policy Mix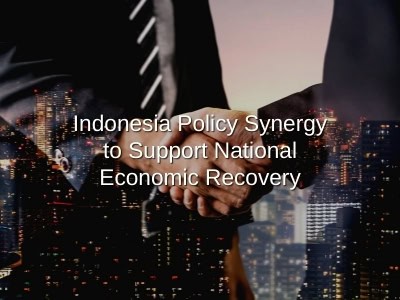 Indonesia is on the road to recovery, thanks to the strong coordination between the Indonesia Government and Bank Indonesia (BI) that provides much-needed support to affected sectors in the economy.
The coordinated policy has aided and provided support to businesses and households. It has also helped to safeguard financial and macroeconomic stability. It has helped the country's economy stay resilient amid everything that has been happening with the COVID-19 pandemic.
An Economy Rebounding
The strong action of the Indonesia government has been supportive enough to help the economy rebound to a 4.9% growth in 2021. This is in addition to the availability of the Covid-19 vaccines. The export sector has picked up thanks to a global economic rebound combined with a recovery of commodity prices too.
With investor sentiment on the rise and the banking sector's relaxed restructuring criteria, things are looking good. Now would be as good a time as any to consider your Indonesia company setup, especially with banks able to maintain their lending to the business sector led by the Central Bank, Bank Indonesia (BI) to support recovery and maintain stability.
The Revised Budget
Fiscal packages worth Rp695 trillion were introduced under the revised 2020 Budget. The budget aimed to cover the COVID-19 healthcare spending and provide assistance to business and households that needed it. This includes both large firms and SMEs.
Budget 2021 is already seeing the approval of fiscal stimulus packages. These will ensure the healthcare sector receives continued support, along with communities and households.
Future Considerations
Thanks to the effective implementation of its current stimulus policy mix, Indonesia's economy will continue to be supported in its recovery throughout 2021. The aim of the coordinated policy is to make a smooth exit from the current stimulus measures.
Indonesia's government is committed to restoring its fiscal rules from 2023 onwards. This will help to anchor the market's confidence. Moreover, a conducive ecosystem for money markets and foreign exchange is something to look forward to in the future. This is thanks to the Blueprint for Money Market Development 2025. The initiative is expected to fast-track developments in the financial market moving forward.
With the continuous reform efforts, economic diversification, digital economy, human capital development, infrastructure development, and investment climate, Indonesia will be able to increase its economic resilience against any future shocks that may come.