Indonesia Reaches New Heights With Its Trade Surplus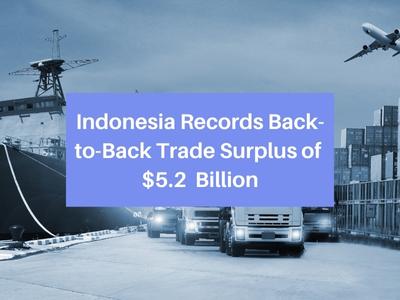 Recording a staggering surplus of US$5.16 billion last November, Indonesia has reached 31 consecutive months of trade surplus. With the value of exports exceeding the imports, Indonesia's trade surplus has grown since May 2020. There is a stark difference in balance that has exceeded expectations. The exports reached US$24.12 billion, whereas the imports were US$18.96 billion, according to Statistics Indonesia (BPS).
BPS' Production Deputy, M. Habibullah, added that the achievement was made possible by non-oil and gas trades, which totals up to US$6.83 billion. Commodities, such as mineral fuels, vegetable oils, animal fats, iron and steel, were the main contributors towards this figure. On the other hand, the trade balance deficit for oil and gas records up to US$1.67 billion (crude oil and oil products).
The median forecast initially predicted Indonesia's trade to gain a US$4.26 billion surplus. Beating market expectations of gaining US$4.26 billion, Indonesia's surplus was posted to US$5.16 billion. The figure has increased significantly, compared to US$3.52 billion in the same month of the year before. According to Reuters, November imports decreased by 1.89% on an annual basis – down to US$18.96 billion. The poll, however, predicted a 7% increase.
Exports were still below the poll's 9.5% growth forecast. Worthing up to US$24.12 billion and an increase of 5.58% on a yearly basis has been the slowest growth since October 2020. From January to November 2022, the export value reached US$268.18 billion. This period's figure broke the highest record for yearly shipments, which was recorded last year at US$231 billion. Since the 1970s, Indonesia has maintained a trade surplus, given its booming economic growth.
Biggest Players in the Trade Balance Surplus
As South-East Asia's biggest economy, Indonesia has a firm status as a leader in exports. Commodities from mining, manufacturing and agricultural goods are major contributors to the country. Indonesia is also on excellent terms with powerhouses like Japan, China, the United States and India. With more exports than imports, the country has enjoyed a solid position as one of Asia's most prominent markets –  for decades.
Countries like the United States, India and the Philippines had an enormous trade surplus with Indonesia, each totalling more than US$1 billion trade surplus. The US was the most significant trade surplus contributor, with commodities such as machinery, clothing and accessories amounting to US$1.31 billion. As for India, the contributing commodities to the trade surplus were vegetable animal fats and oils, mineral fuels, metal ore and more. Commodities from the Philipines also include vegetable fats, animal oils, mineral fuels and vehicle parts.
The dynamic ability to diversify its exports and reduce reliance on imports has ensured Indonesia's trade balance stability. Although it is performing much better than it was during the pre-COVID days, it is still challenging to predict the future of Indonesia's economy with absolute certainty. Still, Indonesia will likely continue to experience economic growth in the coming years.