What is Independence Day in Indonesia All About?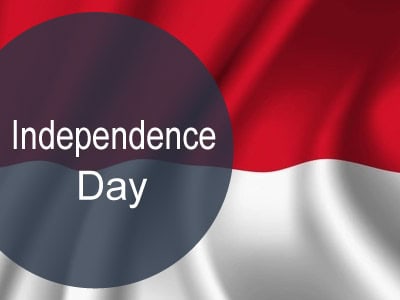 Indonesia was a colony of the Netherlands until 1945. When Japan started to expand, its leaders wanted to support their journey to Independence and drove the Netherlands out of there.
The Indonesia Independence Day Holiday is celebrated every August 17. Sukarno and Hatta proclaimed Indonesia's Independence on this day after they were under the Dutch and Japanese authorities for many years. During this time, you will see people decorating their houses and the streets are adorned with red and white ornaments, which are the colours of their national flag. Indonesia has different ways of celebrating Independence Day.
It is a national Indonesia public holiday which means all financial establishments will be closed. The government businesses, schools, and many businesses are closed on this day. Employees take a break and take part in activities so they can commemorate this day.
Indonesia was a colony of the Netherlands for over 300 years until revolutionaries made a declaration that they are no longer under the Dutch influence. This happened on August 17, 1945. However, several years passed before the Queen of Netherlands formally granted Indonesia its Independence. The reality is that it was only in 2005 that the Netherlands declared their acceptance of the August 17, 1945 event when Indonesia finally achieved Independence.
The national flag of Indonesia is the most important symbol of their independence, which has the colours red and white. It has horizontal stripes to make it identifiable among other flags with the same colours. They call it "Sang Saka Merah-Putih."
The proclamation of Indonesia's independence was done by Sukarno, then president of Indonesia. The proclamation happened with 500 people watching and listening to his speech. Unlike in America which had over 1,000 words and 56 signatures, the Indonesian proclamation only had 45 words. It was only drafted the night before and it only needed two signatures which were from Sukarno and Mohammad Hatta.
How to Celebrate Independence Day in Indonesia and Things You Can Do
The celebration of Independence Day in Indonesia is done through parades, cultural shows, performing arts, community gatherings, and sports competitions.
The Presidential Palace has an official celebration where it read out the declaration at 10 am and a choreographed way of hoisting the national flag. In several regions, the locals attempt to raise the flag on the mountain or volcano's highest peak.
You can watch those who dive underwater and then pitch the flag at the bottom. One of the highlighted activities of this time is playing a traditional game that involves eating the "krupuk", which is an Indonesian cracker, and they climb a tree to get the prize.
The local communities host a game inspired by Indonesian traditions. You can also choose to join those who are doing charity like doing outreach programs, donating, taking part in medical missions, and more.
There is also entertainment. The shows related to activities during Indonesia Independence Day Holiday are aired for a couple of days. The shows involve celebrities and prominent figures, and they are held in different venues that the whole town can watch. The houses and surrounding areas get cleaned. The business organizations are asked to donate for the celebrations.
Some of the activities you can join are eating contests, cooking competitions, decorating bikes, and many more.
How Independence Day in Indonesia is Celebrated
In Indonesia, people normally celebrate by having flag ceremonies in offices and schools. On this day, the students wear their uniforms and gather in the field, and they sing the national anthem. They say a prayer for the late national heroes and then read the proclamation.
There are several activities that are done by the governmental and private offices, and the workers gather in front of their offices for a flag ceremony.
In different places, there are many competitions of different kinds that take place. The contests include climbing palm trees that have been greased with oil, krupuk eating, sack races, and many other fun games. The games they play on this day have a symbolic meaning and it reminds them of the time before Indonesia achieved its independence. The krupuk symbolizes the poverty that their ancestors experienced at the time of colonization.
Everyone is enthusiastic in doing the activities, and the patriotic spirit makes it a very special day.
Venues and Special Events for Celebrating Independence Day in Indonesia
Different Establishments
Indonesians start the preparations early to be able to come up with something grand. The country's skyscrapers, which are mainly the official buildings located in different parts of the town have lighted designs or beautiful banners. The fences that surround the Presidential Palace and other important government offices have a red and white bunting on them. The malls are decorated, and there are some stores that have a sale in honour of Independence Day.
Picnic and Other Fun Activities
If you are a foreigner, you can join the celebrations and festivities, and you will be welcomed by Indonesians. You can participate by sponsoring a picnic for your families and employees, have an activity day for children, or even help in funding the neighbourhood activities close to your office or plant. You can talk to your local RT to help you plan it. Noone is ostracized from joining the activities and fun.
Bali
You can go to Bali if you want a less excessive celebration. Normally, the Balinese put decorations on their houses that are coloured red and white, and then they put a flag outside their house. The kids and workers participate in the flag ceremony. Unlike a lot of Indonesia, they do not have competitions in all areas. It is mainly the larger towns that have competitions. The younger generations have concerts or philanthropic acts such as doing charity and giving donations.
If you are curious about how Independence Day is celebrated in Indonesia, you must experience it first-hand by going there and joining the festivities. You will surely have fun and do not be shy to join them.