Indonesia and Bangladesh Sign Memorandum of Understanding for Energy and Agricultural Cooperation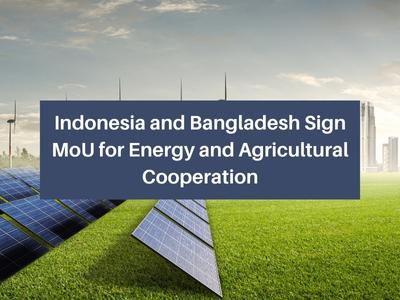 Indonesia and Bangladesh sign MoU (Memorandum of Understanding) on cooperation in the energy and agricultural sectors.
The MoU aims to promote the long-term sale and delivery of conventional energy forms in Bangladesh. It also aims to develop new and renewable energy sources in Bangladesh. Under the MoU, power plants in Bangladesh will also undergo development.
Similarly, a separate MoU was signed for bilateral cooperation in the agricultural sector. Indonesia and Bangladesh have signed the MoU with the aim of fostering production, promotion, marketing, and technology transfer collaboration. It also aims to foster best practice exchange and technology transfer in the agriculture field.
An Imbalance of Import-Export Volumes
Bangladesh has an imbalance in its import and export volumes. To bridge this gap, Bangladesh must promote exports to the Indonesian market. It is therefore urging Indonesia to ease market access, making it easier for readymade Bangladeshi garment products to enter the market.
Bangladesh recognises that Indonesia is an important trading partner and there was potential for further enhanced bilateral investment and trade. Both countries are also exploring the possibility of further collaboration in various aspects, including trade and investment. With both countries sharing cultural similarities and historical bonds, exploring new avenues of collaboration will build a stronger relationship between both nations.
Looking to Start a Business in Indonesia?
As Indonesia and Bangladesh solidify their commitment to cooperation, opportunities for seamless collaboration with Bangladeshi enterprises are on the horizon. Indonesia is continually enhancing its business environment. Experience the benefits firsthand with 3E Accounting Indonesia as your trusted partner. Let's simplify business together – contact us now!