This post is also available in:

Indonesia (Indonesian)
简体中文 (Chinese (Simplified))
More About Indonesia VS Ireland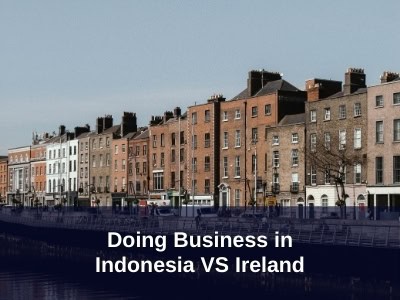 Indonesia has the largest archipelago as it has 13,000 to 17,000 islands depending on what you classify as an island. The largest is Java, Borneo, Sumatra, New Guinea, and Sulawesi. The majority of larger islands are graced with mountains. The peaks range between 3,000 and 3,800 m. The area is 1,904,569 km and the population is 258 million people. It makes Indonesia the populous country on an island.
Ireland is in western Europe and the largest island in the continent. The country is known for wide, green lush fields. The truth is, Ireland's nickname is the Emerald Isle. The government has an elected parliament that makes the laws and appoints the head of state.
Indonesia's population is a huge potential for new ideas and businesses for Ireland to invest in.
Ireland Economy
Ireland's economy performs better than most eurozone countries, and there is almost full employment with rising wages. Its economic freedom score is 80.9, which makes it the 6th freest in the index of 2020. The overall score had an increase of 0.4%. There is a modest increase in the government's integrity score that balances a decline of how effective the judicial system is. It ranks 2nd out of 45 countries in the region of Europe, and the overall score is a lot higher than the world averages. Even if it was hard hit during the 2007-2008 economic crisis, their economy has already bounced back. Their economic freedom was back in 2018, and the rank never changed since then. Their GDP growth has been spectacular.
Indonesia Economy
The economy of Indonesia is projected to become an economic giant because of renewed stability. The policymakers prioritize stability rather than growth. Indonesia's government system is a republic; their chief of state and government head is also the president. Their economy system is mixed, which has economic freedom, together with centralized government regulation, and economic planning. Indonesia is part of the Association of Southeast Asian Nations (ASEAN) and Asia-Pacific Economic Cooperation (APEC).
During the last decade, Indonesia is a consistent performer even if the global economy is weak and volatile. They have proven to be resilient that can withstand shocks which includes the 2008-2009 global crisis.
Ireland Business Culture
The Irish are known for their profit-oriented, short-term approach and they are also good conversationalists, which is an advantage. They strictly follow company regulation and policies and place a lot of value on empirical evidence and facts. In companies, the hierarchies are respected and well-defined. Senior persons mostly have the deciding power, and the junior management might have a delay in the process of making decisions. That is because they need to consult their senior colleagues. The family and personal relationships they have been pivotal in their culture.
In general, they would choose to conduct businesses in their own network. They normally require a personal introduction before conducting business with someone. The appointments should be decided at least 2 weeks prior. To reconfirm, it is better to call a day before the set date.
Indonesia Business Culture
Indonesia has diverse cultural dynamics that dominate its business culture. There are customs and traditions that should be followed. They are proud of their culture and show kindness to foreigners. Before doing business with them, it is best to know the local customs, which helps you blend in and it is simpler to put emphasis on their local dedication.
Hierarchy is very influential to Indonesia's business culture, and they are similar to a couple of Asian countries. When you are introduced to someone new, the right thing is to greet the most senior or eldest first.
They have a lot of rules, but Indonesia has a unique and risky business culture. Their approach to business is relationship-focused. It is important to set aside time to develop alliances and you should understand their business culture if you want to avoid alienating business partners that have potential.
Main Sectors in Ireland
The technology industry in Ireland is a success and it results from how many foreign companies set up their offices there. There are more fintech companies that are setting up headquarters in Dublin. The ICT sector has an employment size of about 35,000 people, which generates £35 billion yearly. There are over 200 ICT companies in Ireland, which includes the majority of the top 10 biggest ICT companies. These companies include Amazon, Google, eBay, Microsoft, Facebook, Twitter, and Paypal.
Export and trade are Ireland's main components. All of the products manufactured should be sold for revenue. Back in 2009, the country trade was £270 billion, which mainly comes from merchandise and service trade. Export plays an important role in economic growth. Ireland is one of the largest software-related exporters, pharmaceuticals, and medical devices. They are also Europe's second-largest producer of lead and zinc. These minerals mainly contribute to the export earnings of Ireland.
Ireland to Do Business in Indonesia
Indonesians know how to deal with Europeans. There are many Iris firms that have been doing business in Indonesia for years. Some of them are PM Group, Kerry Group, H&K International Kitchen supplies. Indonesia receives imports mainly from Japan, the US, China, and ASEAN neighbours in the past. However, their support network for European firms is growing.
They import technology and expertise instead of goods and services, which is noticeable to the Irish. It is their unique feature that differentiates from other Asian countries. A lot of Irish institutions are active in this sector.
If you are from Ireland and want to do business in Indonesia, the best people to contact are from 3E Accounting for incorporation services in Indonesia. They will help you with everything, even when it comes to software development for your business.