Labour-Intensive Projects Expected to Generate 350,104 New Jobs in Indonesia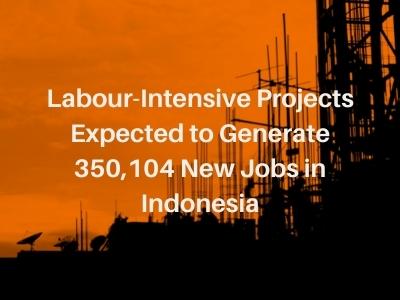 Indonesia's Public Works and Public Housing Ministry estimates that the labour-intensive projects in the water resources sector will employ 350,104 people this year.
Funding for the labour-intensive programme is expected to reach Rp4.35 trillion in 2022.
Water Resources Sector Programme for 2022
The labour-intensive water resources sector programme in 2022 includes the accelerated irrigation water management improvement programme (P3-TIGA). This programme is worth Rp2.25 trillion. Other projects include the artificial aquifer for rainwater reservoir (ABSAH) worth Rp145 billion, and water resource infrastructure operation and maintenance worth Rp2.45 billion.
P3-TIGA projects will be implemented at 10,000 locations. This project will employ 179,141 workers. Meanwhile, the ABSAH projects will be implemented at 580 locations, employing 4,640 workers, The water resource infrastructure operations and maintenance will be carried out at 14,199 locations, employing 166,323 workers.
In 2021, labour-intensive projects employed 1.8 million people. In 2021, labour-intensive projects in the water resources sector employed 361,771 people.
Workers that are employed in labour-intensive projects in the housing, planning, and urban development sector, road construction sector, and housing sector have reached 417,381, 749,299, and 266,394 respectively.
During the COVID-19 pandemic, the cash labor-intensive programme (PKT) was important for low-income people in rural areas. The construction of labour-intensive infrastructure aims not only to stimulate economic growth and increase people's purchasing power but also to reduce the unemployment rate.
Hiring Employees in Indonesia
Recruiting the best team of employees for your business is a critical job for any Indonesian company that is governed by labour laws. Hiring the right employees who stay long-term means the unemployment rate stays down for long.
Refer to our Guide to Hiring Employees for your Indonesian company to find out more.